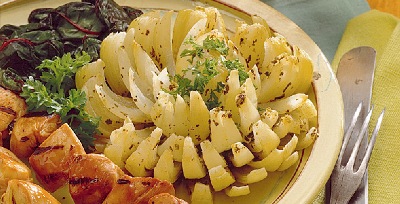 Herb Grilled Onion Bloom

Ingredients

1 2-1/2 to 3-1/2-inch yellow onion
1/2 to 1 tablespoon butter
1/2 to 1 teaspoon dried thyme or oregano
1/4 to 1/2 teaspoon dried rosemary, crumbledDirectionsCut 1/2 inch off the top of an onion; peel the outer layer off and discard. Cut onion into 12 to 16 vertical wedges, leaving root base intact. Set onion on a 12x10-inch foil sheet. Top onion with butter, thyme or oregano, and rosemary. Add salt and pepper if desired. Wrap foil around onion, pinching edges together tightly. Place foil package on rack over medium heat in barbeque grill and grill for 25 to 35 minutes or until juicy and tender.
Makes 1 onion.


Broccoli and Celery Slaw


Ingredients
1 medium head broccoli, stalks thinly sliced and florets chopped
4 celery stalks, thinly sliced on the diagonal
1/2 medium red onion, thinly sliced
1/2 cup mayonnaise
1 lime, zested and juiced
1/2 teaspoon ground cumin
1/2 teaspoon chili powder
2 teaspoons sugar
Kosher salt and freshly ground black pepper
1/2 cup golden raisins

Directions
Combine the broccoli, celery, and red onion in a large mixing bowl.


To prepare the dressing, in a small bowl combine the mayonnaise, lime juice, zest, cumin, chili powder, sugar, salt and pepper. Whisk to combine.
Pour the dressing over the vegetables and stir to combine. Cover and allow the slaw to sit for at least 30 minutes, tossing every so often to combine well. Top with raisins before serving.